Custom Electric Manufacturing to be incorporated into Kanthal® as of January 1, 2021
On August 1, 2018 Kanthal acquired privately owned Custom Electric Manufacturing Co., headquartered in Wixom, Michigan, USA. The company is a leading manufacturer of original equipment and replacement heating elements in North America.
Now, with the ambition to strengthen Kanthal's footprint in North America, Custom Electric Manufacturing (CEM) will as of January 1, 2021 be fully integrated into Kanthal.
For all of our customer, this means a wider product portfolio and better geographic spread for our service organizations. If you have any question please contact Jon Hartmayer, Sales Area Manager NAFTA, Kanthal, tel: 1-209-728-7971
Below you will find specifications for products that will go to market under the Kanthal® brand.
Bayonet Heating Elements

Applications:
Bayonet heating element uses range from heat treat furnaces and die casting machines to molten salt baths and incinerators. They are also useful in converting gas-fired furnaces to electric heating.
Benefits:
Rugged, reliable and versatile; Broad power and temperature range; Excellent high temperature performance; Easy to install and replace; Long service life at all temperatures; Compatible with radiant tubes; Eliminates the need for transformers; Horizontal or vertical mounting; Repairable to extend service life
Technical Specifications:
Primary Element Alloys:
80/20 and 70/30 Ni/Cr
Kanthal APM and AF
Maximum Element Temperature:
Ni/Cr: 2100°F (1150°C)
Fe/Cr/Al:2280°F (1250°C)
Power Rating:
Up to 100 kW/element
Dimensions:
2 to 7-3/4 in. O.D. (50.8 to 196.85 mm) up to 20 ft. long (7 m). Custom fabricated to application requirements.
Plug/Rack Heating Elements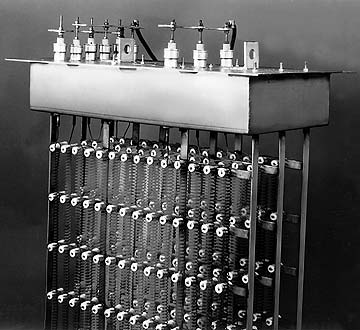 Applications:
Kanthal® builds plug/rack heating elements for brick and fiber-lined furnaces and ovens. Open coil heaters are used in applications like annealing, tempering, aging, stress relieving, curing, baking, and glass tempering.
Benefits:
Plug and rack heaters are custom designed to fit the application and space available and can be provided in a variety of different orientations and configurations. They are used in a wide range of air/atmosphere heating applications at typical operating temperatures up to 1700°F (927°C). The racks and mounting structure are designed to last through several element replacements which offers the option of refurbishing heating units to extend the service life well beyond the operation of a single coil.
| | |
| --- | --- |
| Furnace Type: | Designed for convection furnaces, box furnaces, continuous furnaces, batch furnaces, draw furnaces, vacuum furnaces, and glass lehrs. |
| Material Options: | Nickel/chrome, iron/chrome/aluminum. |
| Temperature Range: | 200° F to 1700° F (93° C to 927° C). |
| Power Rating: | 1 to 700 kW or more. Custom built to your power requirements. |
C-Mersion Heating Elements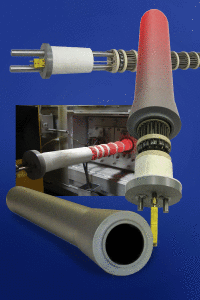 C-MersionSM is an immersion heating system developed by Custom Electric Manufacturing Co. for non-melting, molten metal applications. Target markets include aluminum holding furnaces, degassing, and die casting machines. The bayonet element is a high temperature Fe/Cr/Al alloy with heavy-duty insulators and leads. The radian tube is high-density silicon nitride. The protective tube provides shock resistance over a wide temperature range and resists chlorine and salts used in alloying aluminum. The tapered tube design permits horizontal mounting through the wall in new and existing furnaces.
Benefits:
Long element and tube life; Excellent shock resistance; Individually replaceable; Resists aluminum alloying salts; Through-the wall mounting; Easy to retrofit to existing equipment; Energy efficient
| | |
| --- | --- |
| Primary Element Alloy: | APM, 80/20 and 70/30 NiCr |
| Maximum Element Temperature: | 2280°F (1250°C) |
| Power Rating: | As required |
| Protective Tube Material: | High-density silicon nitride |
| Element Dimensions: | Custom fabricated to application requirements |
Edge-Wound Ribbon Bayonet Elements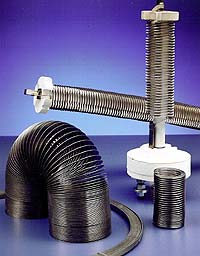 Bayonet heating elements fabricated from edge-wound ribbon deliver more power than bayonet elements comprised of solid rods. Edge-wound elements can replace rod elements in furnaces requiring more power and are used to convert gas-fired furnaces to electric heating.
Benefits:
Higher power density; Easy to install, replace and install; Long service life at all temperatures; Horizontal or vertical mounting; Repairable to extend service life
| | |
| --- | --- |
| Furnace Type: | Roller hearth furnaces, pit furnaces, batch furnaces, low temperature aluminum tempering furnaces, and high temperature exothermic gas generators. |
| Primary Element Alloys: | 80/20 and 70/30 Ni/Cr. |
| Temperature Range: | Up to 1950° F (1050° C) |
| Power Rating: | Up to 65 kW per element |
| Dimensions: | Custom fabricated to application requirements |